Speaker: Jack Holden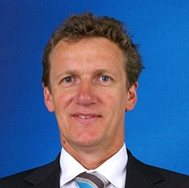 The Low Carbon Economy - implications for Economic Development and Investment
(Day 1, 11.00 am)
Sustainability Strategy Manager, Fonterra Australia
Jack's role is to support Fonterra's in dealing with the range of sustainability challenges that face the world's largest dairy processor.
Jack has specialized in sustainability, particularly in food and natural resources. He has been sustainability practitioner for over 15 years including working for industry, consulting and governments across Australia, NZ and Asia.
Prior to starting with Fonterra in 2010 he was a sustainability consultant for both KPMG and Ecos. Before this he was a senior analyst for the Victorian Government's Greenhouse Policy Unit and led the Sustainability Team at the City of Melbourne.
Jack has also been a Landcare Co-ordinator in the Southern Otways and a catchment management advisor for the Dept of Primary Industries in Colac.
His experience includes sustainability strategy development for large companies, low carbon growth, energy & water efficiency, forest & soil carbon projects.
Other activities include:
Author of the "CEO's Guide to Carbon in Asia Pacific".
Member of the Sustainability Committee of the Australia Food & Grocery Council
Banksia Award finalist for the "CarbonTender" treegrowing project
Bachelor's Degree in Environmental Management & Masters in Public Policy & Management